Respiratory Medicine
DEPARTMENT OF RESPIRATORY MEDICINE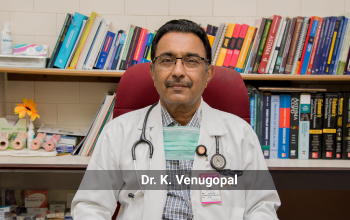 Dr. K. Venugopal heads the department of Respiratory Medicine at Sooriya Hospital, Chennai, Tamil Nadu. He has more than 35 years of experience in Respiratory Medicine.
He also is the Director Administration of Sooriya Hospital and has hospital administration experience more than 20 years. He has taken active interest in obtaining NABH and ISO certification for Sooriya Hospital.
He was trained in pulmonology under Professor C.N. Devanayagan, the renowned chest physician at Government General Hospital, Madras Medical College, from 1980. He graduated in Pulmonary Medicine from Tamil Nadu Dr. MGR Medical University in 1991. Further, he continued his training in Respiratory Medicine at Johns Hopkins Medical School, Baltimore, Maryland, USA and the University of Illinois, Chicago, USA. He underwent a special training in Cystic Fibrosis at Southampton General Hospital, United Kingdom.
He is an active member of the Indian Chest Society, American Thoracic Society, European Respiratory Society, Indian Medical Association and Indian Society of Critical Care Medicine.
DEPARTMENTAL ACTIVITIES
The department of Respiratory Medicine is a full fledged department in the city. This is the only CF care and research centre in South India. CF patients from other states of South India are regularly referred to this department. The Respiratory Medicine department has both inpatient and outpatient units. Outpatient department works from Monday to Saturday, from 10 AM to 6 PM. Inpatient department consists of Intensive Respiratory Care Unit and regular wards.
Pulmonary Function Laboratory
Pulmonary Function Laboratory works Monday to Saturday. The lab has a state of the art DLCO machine and Spirometer. Assessment of pulmonary function for Bronchial Asthma, Chronic Obstructive Pulmonary Disease (COPD), Idiopathic Pulmonary Fibrosis (IPF) and other pulmonary disorders are done. This lab is managed by Mrs. Sujatha Venugopal, who has more than 20 years of experience in pulmonary function assessment. Sleep studies are also conducted for sleep disordered breathing including polysomnography for snoring related diseases. The department also has bronchoscopic and thoracoscopic facilities.
Sweat chloride analysis for cystic fibrosis patients is done in this department by Pilocarpine Iontophoresis technique with precise diagnostic accuracy.
The inpatient department has an Acute Respiratory Care Unit with invasive and noninvasive ventilator support.
The following diseases are taken care of within this department:
Bronchial Asthma
Chronic Obstructive Pulmonary Disease (smoking related disorders)
Pulmonary tuberculosis
Idiopathic Pulmonary Fibrosis (IPF)
Cystic Fibrosis
Pulmonary Hypertension (lung disorder secondary to cardiac failure)
Obstructive Sleep Apnea (snoring related sleep disorders)
Adult Vaccination Program
The adult vaccination program is another activity of the department. People above the age of 60 years are advised to take adult vaccination especially Pneumococcal vaccine and Influenza vaccine.
APPOINTMENTS
Phone number: 23761751/52/53/54/55/56
Extension: 178