Sooriya Hospital : About us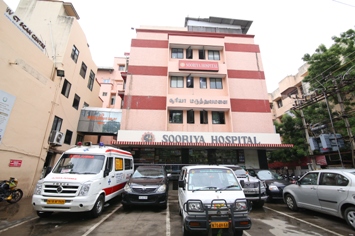 With a 200 bedded multi- specialty hospital in Saligramam, Sooriya hospital has manifested its presence in this sparkling city providing wide-ranging medical care in areas of Pulmonology, Cardiology, Gynecology, Gastroenterology, IVF, Nephrology Neonatal Intensive Care, Orthopedics, Oral and Maxillofacial surgery , Pediatrics, Skin care, urology among others. At Sooriya Hospital, our aim is to deliver quality medical care at an affordable cost with the experienced consultants and specialists by using latest technologies. We are devoted in giving the best patient care.
Our Mission:
SERVICE TO MANKIND IS SERVICE TO GOD
Our Vision:
TO PROVIDE QUALITY HEALTH CARE AT AFFORDABLE COST
Quality Policy:
Sound Processes
Employee Commitment and Team Work
Continual Improvement
Quick Response
Sooriya Hospital is committed to excellence and quality and has an established reputation for offering an unparalleled range of healthcare and diagnostic services.
State Of Art Medical Infrastructure :
Round the clock trauma & emergency care
Pulmonary medicine Department
Round the clock critical care service with specialist acute care physician on site.
24 hours- heart care service with cath lab and the heart specialists on site.
24 hours – maternity and gynaecology services
Fertility Centre with Specialist in Endometriosis
ERCP, Endoscopy, Advanced High definition.
Laparoscopic Unit
24x7 Radiological services-X-Ray-CT Scan.
24x7 Laboratory Services and Blood Bank.
24x7 Equipped Ambulance Services.
Advance & Comprehensive Physiotherapy Department.
24 hours nephrologists and dialysis unit
Service Profile :
Anaesthesiology.
Cardiology.
Dental
Dietary
ENT
Gastro sciences
General Medicine.
Infectious Diseases
IVF
Neurosciences
Oncology
Obstetrics & Gynaecology.
Orthopaedics & Trauma.
Ophthalmology.
Paediatrics & Neonatology
Plastic & Cosmetic surgery.
Parent craft / Counselling
Respiratory medicine
Resuscitation Poison Management & Life Support
Urology & Nephrology
Antenatal Yoga Class
Amenities :
Our patients and visitors will experience the most excellent level of service at our institution. In keeping with the quality of our services, our patient's rooms are designed to give supreme comfort and friendliness. All our rooms are designed to be comfortable.
Our Private Patient rooms, Special Wards, Suites include:
Spacious rooms with sufficient storage space
En Suite Bathrooms
Adequate space for visitors
A couch for accompanying helper
Television / Fridge / Microwave
Canteen
Separate pharmacy for in-patients
APPOINTMENT PROCESS
You can pre book your appointment
1. Ring Us : 91-44-23761751 / 23761752 / 23761753 / 49032300
2. Reach Us : No 1, Arunachalam Road, Saligramam, Chennai 93
REGISTRATION PROCESS
You may register in advance. The registration forms will require basic information such as -
1. Your name and address
2. Contact details of relatives/friends in case of an emergency