Computed Radiography/CT Scan/Ultrasound/4 'D' Scan
24 hours availability of our radiology department. This unit is equipped with: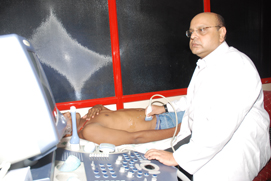 Computed radiography unit
Whole body colour Doppler
c 4/8-Toshiba Asteion CT equipment along with voluson.
730,Pro 4 'D' Whole body Doppler/Ultrasound scanner
Specialization
We are the only centre to offer advanced and specialized Interventional Procedures.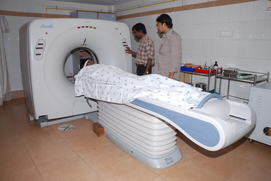 C.T / Ultrasound guided Biopsies
Radio frequency / Alcohol Abulation of Tumors
Facet and Nerve blocks.
Vertebroplasties
Angioplasties, Stenting, Coiling etc.
We are adopting high standards in Antenatal Scanning as well as Interventional procedures in Antenatal period and plan to expand the same with a genetic counseling centre. Apart from routine studies, special studies such as General anomaly scan, follicular study and foetal echocardiography are also being done here.
A stand alone Diagnostic Centre Rajiv Scans at 57, Montieth Rd was also inaugurated in Dec 2007 with a Multislice C.T. Siemens., Logiq P-5 (4D) Whole body Doppler/ Ultrasound scan, TMT, X-ray. Lab, Echocardiogram and ECG etc. This centre is headed by the same team along with full time Senior Radiologist.
Note: Free ambulance service for CT only
For appointments & ambulance service Contact:
Vadapalani Unit : 2376 2222, 9940033725, 9940033721
Egmore Unit : 28591266, 28582472, 9840240675