Parent craft / Counselling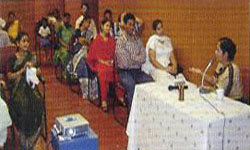 Professional counselors are also present and are committed to the mental welfare of all those who enter the portals of Sooriya Hospital. Counseling is an opportunity to talk to someone in private and get help in managing difficult feelings such as coming to term with an illness, death, marital problems, suicidal tendencies, depression, adolescent and teenage related issues etc., counseling is provided by Mrs.Preethi Rao, BA, (Psyt) ,PG Dip (Guidance and Counseling).
This department is attached with Obstetrics & Gynaecology department, providing a wonderful educational session (parent craft meetings) for pregnant women where, would be parents are taken through the wonderful journey of pregnancy in a power point presentation. Topics covered include tracking of baby's development, healthy diet during pregnancy, coping with labour pain etc.