Department Of Security Services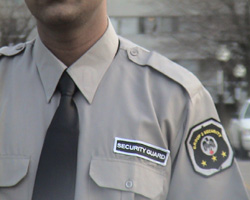 The Hospital environment is fully secured inside and outside premises. Security deployed in the Hospital is provided by Industrial Security & Intelligence India Pvt. Ltd. Well-trained security guards are posted at the access points of entry gates to screen the persons entering into the Hospital towards reception area and emergency hold up. Uniformed security staff guard the ICU, the Wards including the pediatric wards and Operation Theatres. The security staff guard the car parking and two-wheeler parking areas 24 hours - night and day.
Senior level security management is pursued by Mr. S.Rathinasabapathi IPS (Rtd.) Chief Executive Officer of this Hospital apart from his other assignments.
Mr. Stephen, a retired Inspector of Police who has vast experience of security duties and crime investigation supervises this security wing. He closely monitors the security guards duties every day, and ensures utmost safety to the Hospital.
The Security and safety of this Hospital rests with dedicated and well-experienced persons who have served in the Police Department.